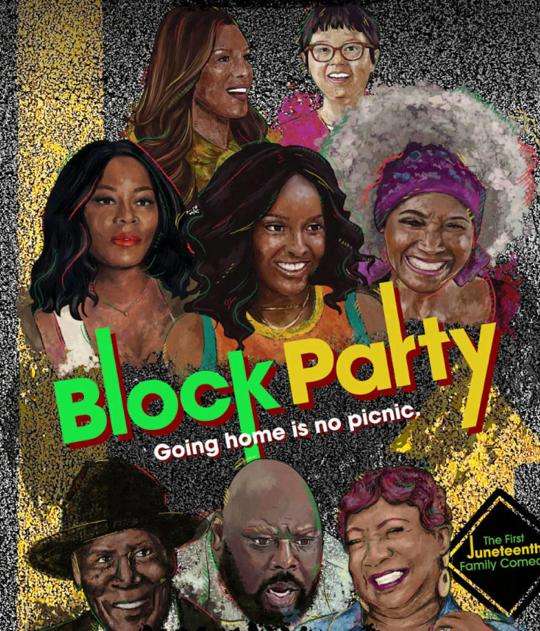 Brace yourselves, as we jet towards the annual Juneteenth celebration, a cinematic sensation is causing a stir not just in Hollywood, but also making waves across the pond. The film in question? The incomparable "Block Party," a film that's initiating an exciting new tradition – a cozy gathering with loved ones to enjoy it!
"Block Party" is a captivating tale that encapsulates the essence of Juneteenth – the belated end to slavery in the United States – in a comforting cinematic experience. This rapidly rising film spotlights our heroine, Keke McQueen, an intelligent Harvard graduate who embarks on a heartwarming journey back to her roots to help her grandmother orchestrate their annual Juneteenth block party. This sentimental journey transforms into an illuminating quest, as Keke reconnects with her heritage, fully absorbing the profound significance of Juneteenth.
The film has received widespread acclaim for its compelling storyline, dynamic cast, and its sincere tribute to Black history and culture. It's even being likened to timeless holiday classics such as "A Christmas Story" and "It's a Wonderful Life", marking it as a potential mainstay of Juneteenth commemorations.
Adding an extra touch of excitement, this year, "Block Party" will be showcased in BET's Love Laugh Legacy section, promising to enhance the Juneteenth festivities even further.
But wait, there's more! Riding on the tide of its soaring popularity, "Block Party" will be accessible for your viewing delight this coming Juneteenth on all the major "free" platforms – including Roku, Pluto, Tubi, YouTube – and the list continues!
"Block Party" delivers an uplifting narrative, a tribute to the resilience of the Black community, and an insightful exploration into the historical context of Juneteenth. In essence, it's a must-watch for those curious to delve deeper into this holiday and engage in its celebration in a truly meaningful way.
With the launch of "Block Party", we anticipate a rejuvenation of community spirit this Juneteenth, as people unite to honour this significant day in history. The film is set to pave the way for a new era of Juneteenth celebrations, setting the scene for a truly unforgettable holiday weekend.
For our UK audience who may be unfamiliar, Juneteenth, celebrated on the 19th of June, commemorates the end of slavery in the United States. This important day became a federal holiday in the U.S. in 2021, a significant moment in recognising the nation's history and the long struggle for freedom and equality faced by African Americans. It's seen as a day to celebrate freedom, education and achievement within the Black community. The name 'Juneteenth' is a blend of 'June' and 'nineteenth', marking the day in 1865 when Union soldiers arrived in Texas with the news that slavery had been abolished, two and a half years after the Emancipation Proclamation.