Spectator editor Fraser Nelson has suggested his publication may leave IPSO after the press regulator upheld a complaint against The Sun over a Jeremy Clarkson column about Meghan Markle.
In an article published to both The Spectator website and that of sister title The Telegraph on Saturday, Nelson claimed that the ruling "puts IPSO in violation of its own charter" and "has torn up" protections for opinion.
IPSO's ruling, published at 10pm on Friday, said Clarkson had made "pejorative and prejudicial reference" to the Duchess of Sussex's gender in a December article in which he described his "hate" for her.
The ruling is only the third ruling listed on the IPSO website where there was a breach of Clause 12 of the Editors' Code, which covers discrimination.
[Read more: IPSO v Impress – Ten years after Leveson, how are the press 'watchmen' faring?]
Spectator will 'seek clarity from IPSO' on whether it 'censors' opinion
The complaint was brought by gender equality charity The Fawcett Society and female domestic abuse survivor charity the WILDE Foundation. Typically IPSO only accepts complaints from the person or group identified in an article, but third parties may bring a complaint if they have the consent of the affected person.
Nelson argued, however, that the involvement of the two charities mean "activists can now complain on someone else's behalf".
Previously, he said, IPSO would only take complaints "from those people referred to by the writer", which he called "an iron rule, repeated in IPSO verdicts time and time again…
"If IPSO has lost its nerve and is suddenly taking its lead from activist groups, then it's a whole new ball game."
Nelson said that IPSO's Clarkson ruling meant it had begun to regulate the views expressed in commentary, and that "The Spectator will now seek clarity from IPSO about the implications of this judgement and whether they are now in the business of censoring opinion on behalf of [new Fawcett Society chair Harriet] Harman and her proxies.
"If so, we will respectfully disengage and I suspect other publications will not be far behind us."
IPSO's first upheld discrimination complaint, also concerning a column in The Sun, was brought by Trans Media Watch in 2015 with the consent of the offending story's subject.
In 2018, IPSO upheld a complaint brought against The Argus in Brighton over an article that unnecessarily referenced the disability of a man convicted of possessing child pornography.
And in 2014, IPSO's predecessor organisation the PCC ruled that various newspapers had been wrong to make reference to the fact a victim of a stag attack was transgender.
[Read more: Sun censured by IPSO over Rod Liddle column joke about blind and transgender politician]
Cheers and disdain for IPSO's Clarkson ruling
Nelson was not the only commentator to take exception to IPSO's ruling. Telegraph columnist Andrew Lilico wrote in a thread on Twitter: "Seriously, who decided it was forbidden for newspapers to publish sexist articles? When did everyone else get to express a view on whether that was a good idea?"
In a leader column, Sun stablemate The Times echoed Nelson's criticism, saying "IPSO's regulations expressly preclude it from investigating complaints relating to matters of taste, decency and impartiality" and that "this ill-judged ruling should concern all defenders of a free press".
"Having previously declined to uphold complaints about other inflammatory columns, IPSO should have sat this one out as well."
It said: "This ill-judged ruling should concern all defenders of a free press."
Others cheered the ruling, however.
Women in Journalism said it welcomed the finding, saying: "Misogyny which normalises violence must be eradicated from our media."
The National Union of Journalists' Equality Council said "it is clear that Clarkson's article should have never been published in the first place and that it fell short of the editorial standards the newspaper should have followed".
The regulatory rebuke received widespread attention, generating a BBC News app push notification and coverage in The Washington Post, USA Today and Australia's ABC. Closer to home, the decision got a front page spot on The Guardian – in the event taking up more newsstand space than The Sun's own front page adjudication.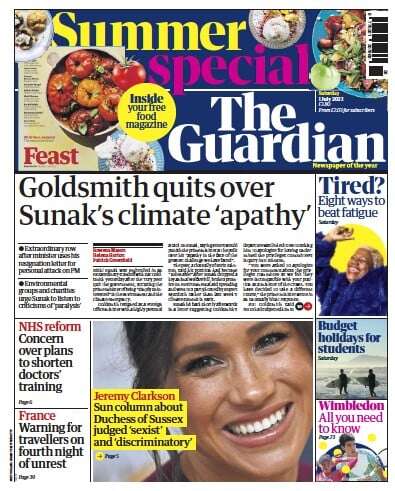 The post IPSO faces backlash from publishers over Jeremy Clarkson ruling appeared first on Press Gazette.