Veteran interviewer Sir Michael Parkinson has died aged 88, his family has told the BBC.
In a statement, the family said: "After a brief illness Sir Michael Parkinson passed away peacefully at home last night in the company of his family.
"The family request that they are given privacy and time to grieve."
Parkinson's early journalism roles included stints at The Guardian and Daily Express before he moved into broadcasting, reporting for Granada Television and the BBC. His interview programme Parkinson first aired on BBC One before moving to ITV.
Among his numerous interviewees across the four decades he presented the programme were Hollywood star Orson Welles, Muhammad Ali, Victoria and David Beckham, Madonna, David Bowie and Celine Dion.
In a statement, BBC director-general Tim Davie said: "Michael was the king of the chat show and he defined the format for all the presenters and shows that followed.
"He interviewed the biggest stars of the 20th century and did so in a way that enthralled the public. Michael was not only brilliant at asking questions, he was also a wonderful listener.
"Michael was truly one of a kind, an incredible broadcaster and journalist who will be hugely missed."
Sky News presenter Mark Austin said on Twitter that Parkinson was "The greatest interviewer of his generation".
Today programme presenter and former BBC political editor Nick Robinson similarly called him "the greatest interviewer of our age who owned Saturday night TV for year after year".
Parkinson had three sons with wife Mary, who he married in 1959.
The journalism life of Sir Michael Parkinson
An only child, Parkinson grew up in a council house in the coalmining village of Cudworth, near Barnsley, South Yorkshire.
When he was a teenager his father, a miner, took him down the pit to put him off working there.
After his dreams of playing cricket for Yorkshire were dashed, he left school aged 16 and began working at the Barnsley Chronicle.
In 2016 he lamented that his path into journalism no longer existed, telling Kirsty Young: "I have a great deal of sympathy for young people nowadays who want to do the job I did all my life as I don't see where the openings are for them."
But he added that: "It seems to me that a lot of young people do it [journalism] as they see it as a way of getting onto shows like I'm A Celebrity. They want to be famous."
He reportedly threatened to bring a libel claim against his first journalism employer in 2009 after the Chronicle published unflattering allegations about his late father, although no suit appears to have ever actually been brought.
He did, however, accept a £25,000 payout from Daily Mail publisher Associated Newspapers in 2010 over claims he had lied about his family background and his relationship with his father. He donated the sum to the Alexander Devine Children's Cancer Trust and a school for orphans in South Africa, Press Gazette reported at the time.
Parkinson's first TV job was as a producer at Granada, and he later moved to Thames TV, before landing his chat show Parkinson at the BBC.
He had a short-lived term at TV-am as part of the original presenting line-up alongside the likes of Angela Rippon and David Frost, and appeared on the shows Give Us A Clue, one-off drama Ghostwatch and Going For A Song.
Parkinson first aired on the BBC on 19 June 1971 and enjoyed a successful run until 1982. In 1998 the chat show was revived on the BBC and proved an instant hit.
It switched from the BBC to ITV1 in 2004 and ran until 2007 – the same year Parkinson retired from his Sunday morning Radio 2 programme.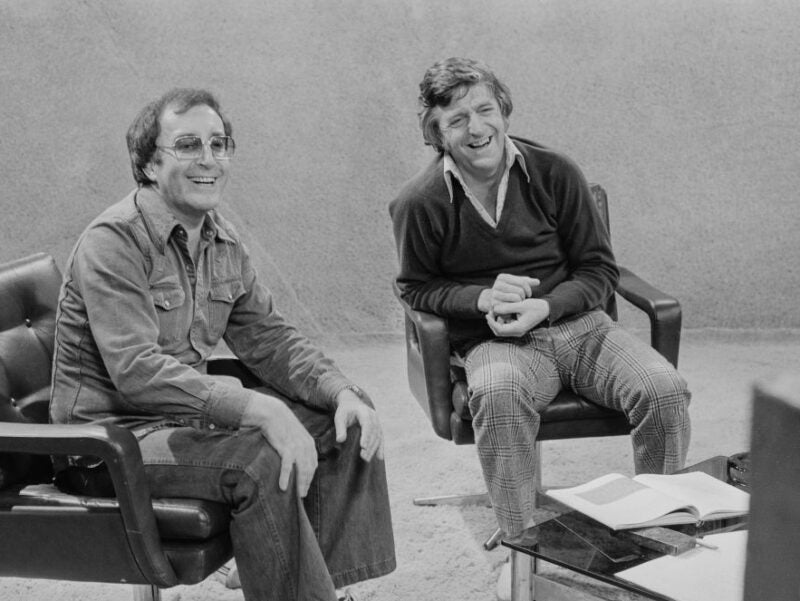 Amid hundreds of episodes of his talk show, headline-making interviews included those with actresses Dame Helen Mirren and US star Meg Ryan.
He famously introduced stage and screen star Mirren as the "sex queen" of the Royal Shakespeare Company during their 1975 chat show encounter, and asked if her "equipment" hindered her being recognised as a serious actress.
In 2003, his interview with Ryan made headlines following a frosty one-on-one with the Hollywood actress while she was promoting the poorly received erotic thriller In The Cut.
Ryan sat stony-faced for the sit-down, delivering one-word answers after allegedly being rude to her fellow guests on the show, the fashion double act Trinny and Susannah.
Parkinson brought down the curtain on more than 30 years of his chat show at the end of 2007 with a final show featuring David Beckham, Sir Michael Caine, Sir David Attenborough, Dame Judi Dench, Dame Edna Everage, Sir Billy Connolly, Peter Kay and Jamie Cullum in a two-hour special.
Speaking on the final show, he said: "Over the years it has been a privilege to meet some of the most intelligent and interesting people. It has always been a great joy and I shall miss it."
As well as his television career, he was a respected radio broadcaster, having hosted Desert Island Discs on BBC Radio 4 as well as his own sports shows on Five Live. He was also an award-winning sports writer, having been a lifelong cricket fan. He was elected president of the Sports Journalists' Association of Great Britain in 2004.
Parkinson received an honorary doctorate in 2008, alongside cricket umpire and his good friend Dickie Bird, at the Barnsley campus of Huddersfield University.
He was knighted by the late Queen at Buckingham Palace in 2008, and said of the accolade: "I never expected to be knighted – I thought there was more chance of me turning into a Martian really."
In 2013, he spoke openly about being diagnosed with prostate cancer following a routine health check.
The post Broadcasting legend Sir Michael Parkinson dies aged 88 appeared first on Press Gazette.