Lighting a fire has never been easier with KindleFlamers Natural Firelighters. This innovative product combines kindling and firelighter in one, eliminating the need to buy separate kindling. Simply place one KindleFlamer between a couple of logs, light it up, and watch your fire come to life. Designed with precision and manufactured using high-quality materials, these firelighters guarantee an enjoyable, hassle-free experience every time you start a fire.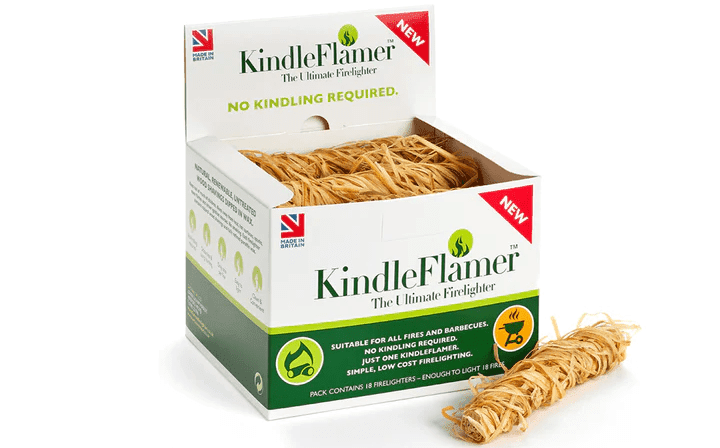 Natural, clean, and odorless
When it comes to creating a warm and cozy atmosphere, KindleFlamers are the most convenient option. These firelighters are natural, clean, and odorless, ensuring a pleasant fire. They provide a clean burn, making them perfect not only for lighting fires in wood burners but also for cooking purposes. If you love using pizza ovens, chimeneas, or barbecues, KindleFlamers are the ideal firelighters for you. Their steady burn ensures a well-established fire, and you don't have to worry about kindling leaving resin inside your oven.
Versatile and convenient
KindleFlamers are not limited to specific types of fires. They are suitable for a wide range of applications where a fire is needed. Whether you're lighting an indoor fireplace or an outdoor bonfire, KindleFlamers will provide the perfect ignition to your firewood, logs, or briquettes. They are also handy for bushcraft activities and camping, ensuring you have a reliable fire starter wherever you go. To add to their convenience, an 18-pack of KindleFlamers fits perfectly in Certainly Wood's Flamer Bucket, offering neat and easy storage while adding an attractive and decorative touch to your fireside.
Sustainably made in Britain
When you choose KindleFlamers, you're not only getting a superior firelighter but also supporting sustainable practices. These firelighters are made in Britain on a sustainably run farm in Herefordshire. They are crafted from untreated wood shavings, which have been dried in kilns using solar power and wood waste. By choosing KindleFlamers, you contribute to eco-friendly solutions and promote a greener future.
Save on your order
To make the most of your KindleFlamers experience, it is recommended to order them alongside your bulk orders of firewood. This way, the boxes will be added to the top of the pallets, and delivery will be free of charge. It's also worth noting that buying in bulk not only saves you money but orders over £130 also come with free delivery, making it even more convenient for you.
Make fire lighting effortless with KindleFlamers
Don't let the task of fire lighting become a tedious chore. KindleFlamers offer a practical and efficient solution to simplify the process. With their innovative two-in-one design, reliable ignition, and clean burn, KindleFlamers make lighting fires a breeze. To get more information or browse fire lighting products, please visit Certainly Wood today.