Finding the best used Rolex to buy for your collection can be a lengthy process. The nuanced distinctions between various models can mean the difference between a great investment and buying a run-of-the-mill watch.
Rolex watches typically stand the test of time, but buying a new Rolex watch has its challenges. Luxury watch enthusiasts will all agree: their biggest bugbear is sitting on a waiting list, biding time until a timepiece becomes available and that's if it ever does.
Official Rolex retailers find demand far outstrips supply, resulting in display cases often accompanied with the words "for exhibition only" and frustrated customers. In fact, authorized Rolex retailers have entered the pre-owned market themselves, often referring customers to purchase pre-owned in order to get their desired watch faster.
Because of this, the grey market – also called pre-owned or secondary market – has emerged. Luxury resellers have now become a completely legitimate source for those interested in luxury watches.
The pre-owned market allows buyers to invest in a range of iconic timepieces, including pre-owned Rolex watches and discontinued models.
Buyers exploring the secondary market can find vintage and completely unworn pre-owned watches by some of the most collectable and sought-after brands.
If you're on the hunt for a pre-owned Rolex watch, take a look at the models below for some inspiration. As of 2023, these are some of the best second-hand Rolex models on the market.
Rolex GMT-Master II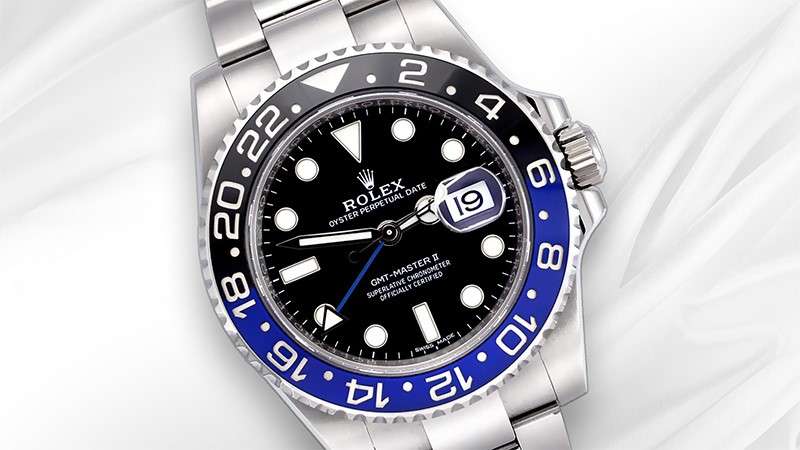 The Rolex GMT Master II collection was launched in 1982. Rolex introduced a new hour-hand movement that allowed independent setting from the other hands.
The high-quality construction and timeless design of the Rolex GMT Master II make it one of the best options out of all the pre-owned Rolex watches.
There are a couple of sought-after models from this range, including the 'Pepsi' model.
The Pepsi GMT Master II gets its name from its bi-coloured red and blue bezel. The colours of the bidirectional rotatable are reminiscent of the famous soft-drink manufacturer.
The letters in this model reference number – Ref. 126710BLRO – stand for bleu/rouge: French for blue/red.
The black and red model was also known as the 'Coke' model because of its colouring.
The GMT Master II 116710BLNR has a blue and black bezel colour scheme, giving it the nickname the 'Batman' model. The watch was updated in 2019 with a slightly slimmer case and Jubilee bracelet. The resulting 116710BLNR was referred to as the Rolex 'Batgirl' model because of its more refined character.
This model was discontinued in 2020, before a rerelease of both the 'Batman' and 'Batgirl' models in 2021.
Rolex Oyster Perpetual
The origin of the Rolex Oyster Perpetual dates back to 1926, when the brand created the first waterproof watch, nicknamed "Oyster". Rolex took the bivalve oyster design and adapted it to keep water out and protect the watch's components.
Five years later, in 1931, Rolex created and patented the famous self-winding movement with a Perpetual rotor.
The first Datejust, a pillar of Rolex Oyster Perpetual watches, arrived on the scene in 1945 and had an elegant, simple design. These models are split into Professional and Classic categories.
Current Datejust timepieces are available in a range of sizes that include depending on the model:
A range of dial colours is also available, including:
Blue
White
Green
Yellow
Tiffany
Celebration – launched March 2023
The most sought-after Rolex Oyster Perpetual dial colour is the 'Tiffany' colour – turquoise blue.
Rolex Daytona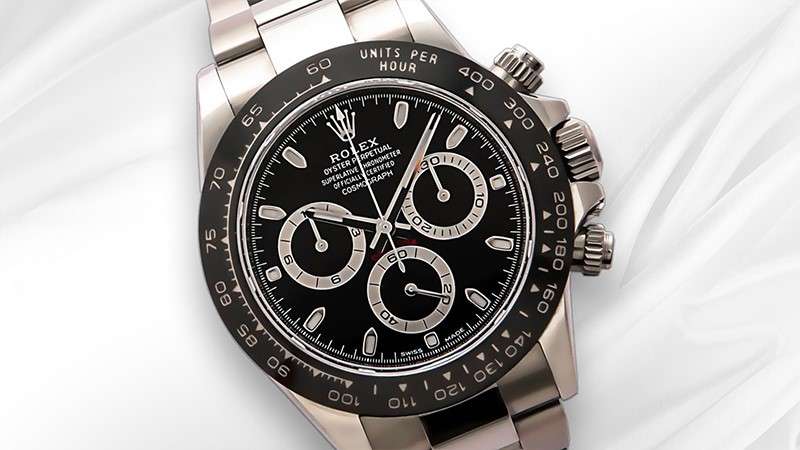 The Rolex Daytona was first introduced to the market in 1963 and has been highly popular among collectors and watch enthusiasts since day one.
Low production numbers and the Daytona's unique features make this a sought-after watch for any collection. Vintage Rolex Daytona models can be difficult to find, not to mention pricey.
The three Daytona generations were released in 1963, 1988, and 2000, and their name comes from their link to car racing. The 1967 Daytona release included a tachymeter scale that was placed on the bezel and could measure up to 300 units an hour.
Stars like Paul Newman helped the model gain fame, as he wore this watch when he raced.
Modern models, like the Daytona Oysterflex, have a few notable differences from the vintage Daytona, including a 40mm Oyster case. These are constructed from a variety of materials, including meteorite, platinum, and gold.
There's a wide range of different coloured Oysterflex bracelets and dials, including:
Rolex Submariner
The Rolex Submariner dates back to 1953 and was one of the first specialist diving timepieces to be created. The original design was water-resistant to 100 meters and featured a black dial and bezel with stainless steel casing. The Rolex Submariner gained popularity because of its high quality and practicality – not to mention its sleek and classy appearance.
This timepiece's popularity skyrocketed when it was featured in the 1962 James Bond film 'Dr No'. It also didn't hurt that heart-throb Sean Connery was the model of the Submariner 6538, of course.
An updated version was released in 1967. Just two years later in 1969, the Submariner Date model was released: the very first Gold Submariner.
A red-dial Submariner was released in 1975 and continued to feature as 007's watch of choice.
The 16800 Submariner was released in the 1970s. It featured a robust sapphire crystal case which offered scratch resistance and a water depth capability of 300 meters.
The two-tone 16803 Submariners were released in 1984. Jump forward to 2003 and one of the most sought-after Submariners was released: the 16610LV featured a green bezel and was nicknamed the 'Kermit'.
2010 saw the bezel upgraded to "Cerachrom" for greater durability. A decade later and the case size was increased to 41mm. This is perfect for collectors that prefer a large watch.
There have been many great updates and the model has a very interesting past. Because of this, it is clear why the Rolex Submariner is such a great choice for those in the market for second-hand Rolex watches.
Rolex Day-Date
Rolex Day-Date models feature both the day and date on the dial. The originals were quite bulky because the motion was more complex.
Early models, including the 6510, 6511 and 6611, can be quite rare, as they were not produced for long.
The most sought-after Rolex Day-Date models include the 1803 and 1800 series. These models were produced between 1960 and 1978 and fine-tuned the original design. They were also the last models to feature the pie-pan dial. This retro style has an angled perimeter.
These models were produced in a range of luxury materials, including:
Yellow gold
White gold
Rose gold
Platinum
This is a classic dress watch that offers collectors a great range of options. The Day-Date models produced with Arabic dials are extremely limited and are typically sold to retailers in the Middle East. This makes it particularly challenging for European collectors to get their hands on this sought-after item.
A rainbow dial is a unique style that features rainbow-coloured sapphires. Rolex only produces a very small number of rainbow watches every year, adding to their value and status. Finding high-quality sapphires in the correct colours can be very difficult.
This month saw the launch of the new Day-Date 36 mediterranean coast inspired dial featuring a green aventurine, carnelian and torquoise dial. This and the Puzzle Dial are sure to become cult models among Rolex collectors.
FAQs
What other Rolex models should I look out for?
The Rolex Datejust was the first wristwatch to automatically advance the date. The Rolex Datejust is difficult to buy from authorised retailers and long waiting lists are often required.
Are gold Rolex watches more sought-after?
Gold Rolex watches are highly sought-after. However, the rarity and condition of the watch will often dictate how valuable and sought-after it is.
Is it safe to buy Rolex watches online?
Buying any luxury brand watch online is safe, as long as you do so from a reputable seller. When buying a pre-owned luxury watch, it is essential that you buy from a trusted source. Here at RCWATCHES, we offer a range of luxury watches that our customers can purchase with peace of mind.
Thinking about buying a pre-owned Rolex watch?
Buying pre-owned Rolex watches can help you avoid lengthy waiting lists.
Second-hand Rolex watches can often be found unworn. They also come with all the documentation you would receive when buying from an authorised retailer.
Buying a preowned Rolex watch can also be a worthwhile investment, with some models gaining value quickly.
Conclusion
Finding the right Rolex model to invest in can be a challenge. There are many differences between models and being able to spot these can help you on your way to investing in a rare and impressive watch.
The most important part of buying a used Rolex watch is knowing you are buying from a reputable source. The secondary market allows buyers to avoid lengthy waiting lists (if you can at all get on a list) and pick up rare, discontinued and vintage models.
Knowing you are buying luxury timepieces from a respected source will guarantee the quality the legitimacy of second-hand models. It will also provide you with peace of mind.
To source your dream investment grade Rolex contact us here; www.rcwatches.com